To make the kurobuta tonkatsu taste even better,
we give lots of painstaking attention not only to the kurobuta, but also to the sauce and rice.
Here too we include the Kagoshima commitment to discriminating quality.
Enjoy it from the first mouthful to the last.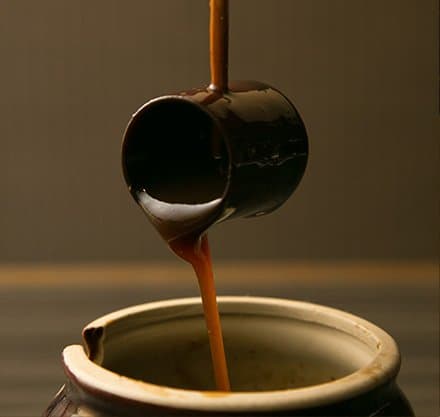 The sauce that is indispensable for tonkatsu is "black sauce."
A special sweet and spicy sauce with a superb taste using plenty of fruit that was created
through repeated trial and error to create a flavor that suits tonkatsu.
Also try the three condiment varieties of "salt," which allows you to simply taste
the kurobuta's original flavor, red miso, and a "sesame sauce" that is made with sesame seeds and Japanese soup stock.
Kurokatsutei does not compromise when it comes to either
its main menu item of Kurobuta or any other ingredients.
In particular, we are absolutely committed to our "rice,"
which we cook just the necessary amount of,
ranging from 1-3kg, depending on the day of the week and the time of day,
so that customers can always have "freshly cooked" rice made in Kagoshima Prefecture.
We take great care to serve our customers rice
that has been cooked within 2 hours at the longest.